Kellyhide Dogs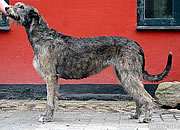 INT DEN NOR SWE NORD CLB CH NORDV04 KLBV05 Allegria of First Avenue (Abe)
Bred by Regine van damme Belgium
of first Avenue irish wolfhounds
Bitch, born 25 Sep 2001.
Allegria's Photos
Allegria's Pedigree
Allegria came to us from Wolfhouse at the age of 1½ years. She was having social problems in the pack at that time. She was aspiring to be a leader, but the place was securely taken, and with her young age, she was unable to overthrow the alpha bitch. At the same time she had several peers in her own age group, who likewise had great ambitions, there were conflicts between this group of juveniles. This broke her heart. I had earlier asked Pernille Monberg if I could perhaps purchase Allegria, which was flatly refused. Allegria's temporary social problems, ironically became our fortune and we were later blessed to have her join our household. Away from the original pack, Allegria slowly began to blossom and today she is our primadonna, our queen, our alpha matriarch. She has an incredible personality, she is fun-loving, she is strong headed but she never engages in unnecessary conflicts. We believe that the dogs in her original pack were well aware of her potential, and wanted to nip it in the bud.
As an extra bonus, we have also acquired a wonderful show dog. Allegria has, in no time, finished her Danish Championship, her IW Club Championship and a Norwegan Championship. She has obtained the title of Nordic Winner and she is in the lead for top Irish Wolfhound bitch in Denmark in 2005.
---
---
INT DEN SWE NOR NORD CH
Wolfhouse Melody Maker
SWE NOR FIN CH
Wolfsbane Pre-Eminence Black Magic
INT NORD SWE DEN CH
Pre-Eminence's Gentle on My Mind
Warlock's Eycab
Godinis Eileen My Lady
NOR CH
Violet Dickson O'Marksbay
NOR CH
Rovaleco's Tearing-Thunder
NOR SWE CH
Cazavina's Sayonara
DEN CH
Sixpence of Kilmara
INT NED LUX CH
Nasch from the Good Heath
GER CH
Oelmühle Anton
Karla from the Good Heath
INT BEL NED LUX CH
Miss-Marple from the Good Heath
GER CH
Solstrand Pieter
INT CH
Kane from the Good Heath
BEL CH
Yahoo Rathkeale First Avenue
INT BEL LUX NED CH
Quincy of Kilmara
WorldW-94&95
INT NED LUX CH
Nasch from the Good Heath
GER CH
Oelmühle Anton
Karla from the Good Heath
INT BEL NED LUX CH
Miss-Marple from the Good Heath
GER CH
Solstrand Pieter
INT CH
Kane from the Good Heath
Ancupla Destiny of Rathkeale
USA CH
Rua Fenagh of Rathkeale
USA CH
Cu from The Cove
Rathkeale Lady Kathleen
USA CH
ArMaitiu Ancupla Nua Sprid
USA CH
Riverlawn Muster of Eagle
USA CH
ArMaitiu Noitmig of Eagle