Kellyhide
About Kellyhide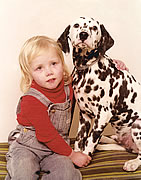 The choice of sharing my life with dogs did not come out of the blue. I am convinced it is in my blood. My grandmother, who bred Norwegian Elkhounds and Dalmatians, laid the foundation very early. I spent endless days of my childhood with Granny, indulging her dogs. When I moved into a place of my own, I was able to fulfill a lifelong dream by purchasing my first Irish Wolfhound. I have since had a couple more Wolfhounds as pets, before I finally felt that I was ready to actually start breeding them.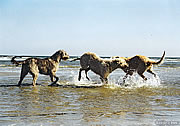 Today I live in the northernmost part of Jutland in Denmark, not far from where the famous Skagen painters P.S. Krøyer, Anna Ancher and Michael Ancher worked in the late eighteen hundreds. It was the uniquely beautiful light, the ocean and the rugged landscape which captivated these artists. My husband, my two boys, my daughter and I spend much of our free time by the water with the dogs.
Just like the early artists I am infatuated by the beauty of the place and that very special light, which I attempt to capture in my waterfront photos of the dogs.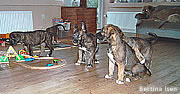 Our dogs are our family members. They all live in the house and puppies are born and raised in the middle of our livingroom.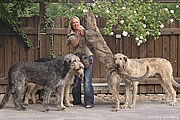 We only have litters when I want to keep something from a particular combination. The greatest reward is being granted the opportunity to experience the fruits of our labour develop and hopefully blossom into beautiful, healthy hounds which are full of zest and vigor.
Bettina Isen,
September 2008